Sutton Coldfield Fencing club is based in the north of Birmingham. Whether you are an adult or junior, experienced fencer or beginner, you will get a warm welcome!
Please get in contact if you are interested scfencingclub@btinternet.com
About us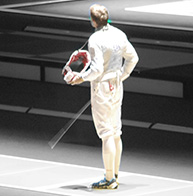 We fence with all three weapons, and meet every Monday except on Bank holidays at Wyndley Leisure Centre in the Main Hall.
Times
Juniors: 7:15pm - 8:15pm. Open September - June/July, excluding bank holidays, summer and half term breaks.
Adults: 8.30pm - 10.15pm. Open all year except on bank holidays.
Contact
Email Gavin/Julie/Franco at scfencingclub@btinternet.com or telephone Gavin on 0121 355 2715
Starting Fencing
.
Adults
We run free one hour taster sessions throughout the year (usually January, after Easter and Sept/Oct) followed by a 6 week beginner course run by one of our qualified coaches. The beginner classes are ideal for those with no knowledge of the sport.
During the beginners course, you will be introduced to the tactics, techniques and rules of fencing working in pairs or with one of our the coaches. At the end of each session there will be some free time to have some fencing bouts.
Juniors
New beginners in the junior class are accepted at the start of each half term if places are available. Generally, the minimum age we accept for juniors is nine, but we sometimes accept those who are younger from the age of eight, with prior arrangement. If your child is interested in joining the group, please contact the club in advance.
What do I need?
If you're coming down for the first time, wear sensible sports clothing: White-soled trainers (squash or indoor tennis shoes are ideal) and long tracksuit-type bottoms are a must with open pockets taped up (fencing in shorts is not allowed). Wyndley offers excellent facilities with changing rooms and showers on the premises.
Cost
The cost for adult beginners is £80/£50 (Concession). Costs cover all the coaching, and the use of the fencing equipment. Cost for the juniors is per half term (or £5.00 per week). You will also need to acquire insurance through the BFA.
Once you have finished the beginners course you may then choose to pay weekly or every 6 months (or every half term for the junior class)
If you are interested in fencing whether as a beginner or experienced fencer, please contact Gavin/Julie/Franco by email: scfencingclub@btinternet.com or telephone Gavin on 0121 355 2715
Venue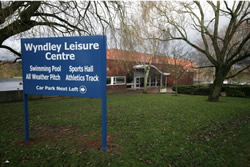 Map Multimap
Parking
Parking is free at the leisure centre. However, if you arrive around 7.15pm in time for the junior club, you might find it difficult to find space to park and you may need to wait a short while.
By bus
Any bus running into Sutton Parade. The club is located about fifteen minutes walk from the Parade. Take either Park Road from the McDonalds end of the Parade, or Manor Road from the top end of the Parade (leading around towards the back of the Gracechurch Centre), and both of these routes emerge onto Clifton Road.
By train
The nearest station is Sutton Coldfield, on the cross-city line. Leave the station on 'from city' side of the platform, turn left, and follow the hill (Railway Road) all the way down to T-junction. Turn right onto Park Road, and head all the way to the island, where you turn left. You are now on Clifton Road. Wyndley is about five minutes walk uphill, on your right.